Product & Package Handling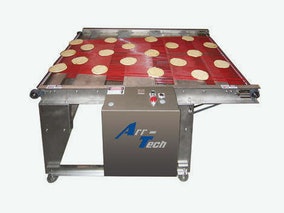 Arr-Tech makes a spreader/laning conveyor designed for product laning applications in food processing. System will automatically denest products such as tortillas, flatbread and pizza, eliminating the need for manual labor by positioning the product into lanes to be transferred to automatic counting, stacking and packaging equipment. Featuring bi-directional product separation, variable-speed drive, and easy adjustability for a variety of application needs, this spreader/conveyor allows easy access for maintenance and utilizes current technologies for greater durability.
See the Product & Package Handling page on this company's website.
Types of Product & Package Handling
Lane Dividers, Merge & Transfers
Stacking Machines