Food & Beverage Processing Equipment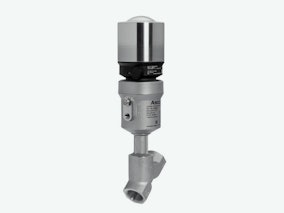 ASCO's broad offerings in fluid control solutions are used in hundreds of process, industrial, analytical and medical applications. Its catalog of over 50,000 precisely engineered valves includes valve piloting solutions that help global brands ensure high precision fills and reduce costly waste while improving speed and accuracy on their packaging line. Featured valves include the ASCO Series 290, a pressure-operated, direct acting angle-body piston valve built for demanding applications. Its straight-through body design is available in bronze or stainless steel. The valve is suitable for general service applications (air, inert gas, water, oil), plus steam, hot water, and auxiliary fluids. A large range of options, certifications and valve characteristics is available.
See the Food & Beverage Processing Equipment page on this company's website.
Types of Food & Beverage Processing Equipment
Pumps, Valves, Fittings & Piping