Package Forming Equipment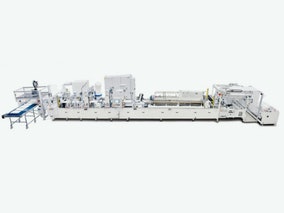 B&B bag and pouch converting equipment is custom designed to meet the needs of each customer. Package formats from three-side seal and stand-up pouches to large side-gusseted and quad-seal bags are all possible. Stand-up pouch machine has features for adding tear-off notches, zipper reseal or handles in a wide variety of film structures including barrier, non-barrier, breathable and fully recyclable as well as paper. Side-gusset bag machines are dedicated to the conversion of PE materials, PET/PE, mono-materials, MDO/PE and other recyclable structures. Longitudinal side gusset formation of quad-seal bags provides a wide range of bag formats with folded, pinch and flat bottoms. Machines for wovens (WPP) bags are also available.
See the Package Forming Equipment page on this company's website.
Types of Package Forming Equipment
Bag/Pouch Making Machines
Package Types:
Bag

Large Bag

Pouch

Stand-up Pouch