Blister & Clamshell Packaging Equipment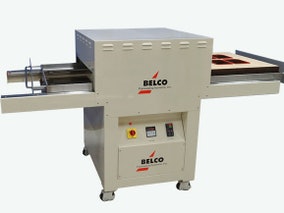 Belco manufactures the BM 2020 and BM 3025 blister sealers, available in two machine sizes with sealing platens measuring 20-in wide X 20 in. deep and 30 in. wide X 25 in. deep. Features easy set up and operation: simply set the digital temperature control and seal time for the product to be sealed and adjust the incoming airline pressure to the proper PSI reading on the provided air gauge. Then place a blister into each seal fixture cavity, load product and place the blister top card. Features a two-station design shuttle drawer for independent and safe operation. Blister sealer units feature specially designed heater blankets for even heat transfer.
See the Blister & Clamshell Packaging Equipment page on this company's website.
Types of Blister & Clamshell Packaging Equipment
Blister Sealing Equipment (Retail Packs)
Package Types:
Blister Pack (Retail)