Food & Beverage Processing Equipment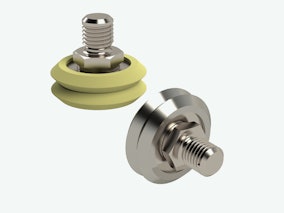 Bishop-Wisecarver products are used as components in food processing cutting and slitting applications, providing maximum durability against debris; they are built to last, even when operating high-throughput machines and extreme conditions. DualVee® wheels and track provided a long-lasting, self-cleaning solution. The unique washdown seal system retains the bearing grease during high pressure cleaning, ensuring the bearings stay lubricated for life.
See the Food & Beverage Processing Equipment page on this company's website.
Types of Food & Beverage Processing Equipment
Food Processing Accessories & Components
Slicing, Dicing, Cutting & Shredding Equipment
Features:
Automatic

Manual

Semi-automatic

Washdown (wet)

Wet