Pre-made Bag Loading & Sealing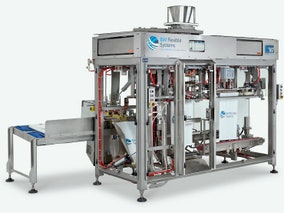 BW Flexible Systems offers a wide range of bag filling machines, designed for free and semi-free flowing products, that handle a variety of products and accommodate a variety of bag types and sizes. Featured machines include the Thiele OmniStar, a high-speed bag filling system that offers production-enhancing features for large bags that were formerly found only on packaging systems for small bags. Other models include the Thiele Series 7115XC automatic bagger with specialized "duckbill" filling spout that moves into the bag prior to filling to reduce dusting and the Thiele Series 7105 Swinger Bag Filling System that automatically hangs heavy-duty flat tube or gusseted bags.
See the Pre-made Bag Loading & Sealing page on this company's website.
Types of Pre-made Bag Loading & Sealing
Bag Closing Equipment
Bag Loading, Filling & Sealing
Bag/Pouch Sealing Equipment
Features:
Adhesive

Automatic

Continuous motion

Heat seal

Inline

Powder

Quad-seal bags

Semi-automatic

Stand-up pouch
Package Types:
Bag