Case Packing Equipment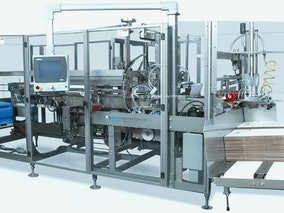 BW Integrated Systems has a broad portfolio of case and tray packing solutions for virtually every segment of the consumer-packaged goods industry. BW Integrated Systems provides case packing systems for flexible bags, rigid packages and cartons in many packaging formats and in a variety of speed ranges. Case packing machines include top-load case and tray packers, side-load case packers, wraparound packing, high-speed continuous motion tray packing and high-speed continuous motion case packing.
See the Case Packing Equipment page on this company's website.
Types of Case Packing Equipment
Case or Tray Erect/Load/Seal (Integrated)
Case or Tray Erectors & Formers
Case or Tray Loaders
Case Sealers
Features:
Auto load

Automatic

Bliss

Corrugated tray

Horizontal/End/Side Load

Robotic

Robotic loading

Vertical/Top/drop load
Package Types:
Bag

Bottle or Jar

Brick Pack (Laminate)

Can or Canister

Carton (Folding)

Carton (Gabletop)

Clamshell

Cup, Bowl or Tub

Portion Pack Cup

Pouch

Tray