Pre-made Tray/Cup/Bowl Packaging Equipment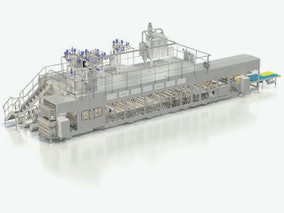 Ermi and Dairy Pack brands of preformed cup filling machines from Synerlink, a Berry-Wehmiller Packaging Company, are designed for premium, unitary primary packaging, whether they're to be sold individually or grouped into different SKUs at end-of-line. These fillers can also be used to fill buckets for family portions and catering markets. Ermi and Dairy Pack FS cup filling machines accept any shape (round, oval, square, conical, reverse conical) or material (plastic, aluminum, glass, terra cotta) for cups, whether they're stackable or not. With ranges from 4,000 to 63,000 containers per hour, machines offer three levels of hygiene for standard, extended and long shelf-life items. Machines accommodate up to three different cup shapes and/or diameters on the same line.
See the Pre-made Tray/Cup/Bowl Packaging Equipment page on this company's website.
Types of Pre-made Tray/Cup/Bowl Packaging Equipment
Denest/Fill/Seal (Integrated)
Product Loading into Trays, Cups & Bowls
Features:
Automatic

CIP

Hygienic (low-moisture)

Inline

Pre-cut lidding

Robotic

Rollstock lidding
Package Types:
Cup, Bowl or Tub