Food & Dry Ingredient Handling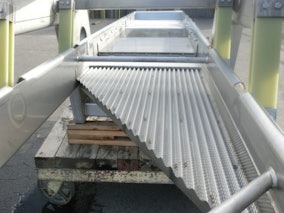 Commercial Manufacturing supplies the processing industry with a range of material handling, conveying and bulk handling equipment. Machines include distribution and spreader conveyors used in raw food processing applications including fines removal, spreading or dewatering. Commercial Manufacturing's product line includes material handling products for receiving and unstacking product, dumping their contents, washing, restacking, and discharging them include tote/bin stackers and destackers, tote/bin dumpers. Other specialties include screens used in vibratory conveyors for functions including dewatering, fines removal, size grading, and scalping.
See the Food & Dry Ingredient Handling page on this company's website.
Types of Food & Dry Ingredient Handling
Bulk Handling & Weighing Equipment
Dumping Stations
Processing Conveyors/Conveyance