Pre-made Bag Loading & Sealing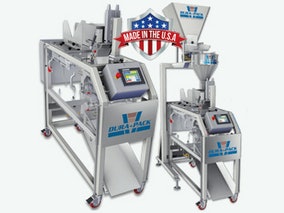 Dura-Pack is the industry-leading manufacturer of automatic premade pouch bagging machines and equipment. Our pouch bagging machines fill and seal premade pouches, increasing production and streamlining packaging operations without the need for rollstock. Our pouch baggers feature a user-friendly touchscreen, integrated security and diagnostics capable of diagnosing and troubleshooting issues.
See the Pre-made Bag Loading & Sealing page on this company's website.
Types of Pre-made Bag Loading & Sealing
Bag Closing Equipment
Bag Loading, Filling & Sealing
Bag/Pouch Sealing Equipment
Features:
Automatic

Hygienic (low-moisture)

Liquids

Manual

Modified atmosphere packaging

Multi-lane

Powder

Semi-automatic

Stand-up pouch

Two-stage filling

Washdown (wet)
Package Types:
Pouch

Stand-up Pouch