Blister & Clamshell Packaging Equipment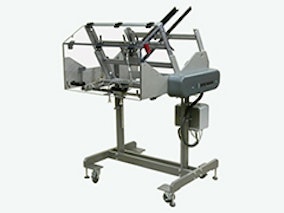 nVenia helps automate the filling of cups, trays, clamshells, and other rigid nestable containers through the use of its OHLSON Brand Automated Cup and Tray system, which is designed for the quick and easy filling of trays with various products, including medical devices, hardware, and food products such as snacks or frozen meals. The system uses a traveling indexing assembly with platens custom-designed to fit customers' clamshells or cups, moving each container under stations for product filling using OHLSON Brand Multi-Head Weighers or other filling equipment. Post-fill, the containers can move on to other stations, including gas flushing, top sealing, and more. Designed for food applications, the system comes with stainless steel framework and food-grade materials, and allows for fully adjustable guide rails and a variable speed infeed/discharge conveyor.
See the Blister & Clamshell Packaging Equipment page on this company's website.
Types of Blister & Clamshell Packaging Equipment
Blister Sealing Equipment (Retail Packs)
Features:
Automatic

Entry-level/budget models available

Semi-automatic

Tool-less changeover
Package Types:
Clamshell