Pallet Conveying, Dispensers & Slip Sheets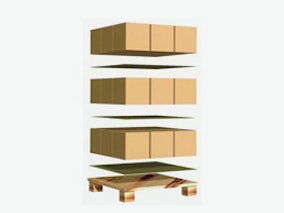 Palletization separator and slip sheets and slip sheet dispensers from Endupack SA are used in palletizing operations for the food, pharmaceutical, cosmetics, chemical and beyond. Grip Sheet, used as a complement to film for securing loads on the pallet until they reach your customers, makes internal handling operations safer and helps reduce shipping costs by optimizing your pallet loading patterns or by increasing the number of rows of products per pallet shipped. Grip Sheet is reusable and recyclable. The Cut'n Grip is an all-in-one slip sheet dispenser with an automatic cutter that can be supplied in manual or completely automatic formats.
See the Pallet Conveying, Dispensers & Slip Sheets page on this company's website.
Types of Pallet Conveying, Dispensers & Slip Sheets
Pallets & Slip Sheets
Slip Sheet/Top Sheet Handling