Product & Package Handling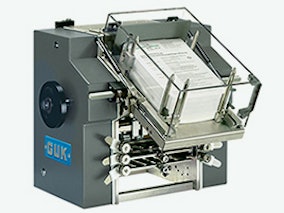 Vijuk Equipment supplies small-paper-leaflet outsert folders that can be installed on the packaging line by chain or toothed belt to fold leaflets for immediate insertion into product cartons along with the product. Several models are offered for synchronizing with the packaging line at a 1:1 ratio—all with a continuous-load feeder, all fold down to 5/8", one servo-powered with HMI touch control and job recall, and two with hinged feeder table for easy access to folding rollers and plates. Sheet sizes are from 2-3/8" x 3-1/2" to 8-3/8" x 23-1/2" depending on the model. Production speeds up to 600 sheets/min., depending on the model and size of leaflets. Several roll-fed models are available, including one that can cross fold sheet sizes up to 16-1/2" x 13-3/8" at 400 sheets/min.
See the Product & Package Handling page on this company's website.
Types of Product & Package Handling
Leaflet & Outsert Machines
Features:
Entry-level/budget models available
Package Types:
Carton (Folding)