Food & Dry Ingredient Handling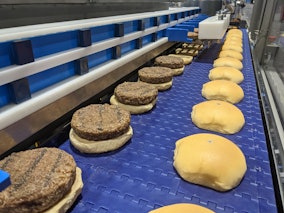 Hoosier Feeder Company provides a variety of solutions for food and dry ingredient processing. Hoosier's food product placement solution is specifically designed for frozen food and ready-to-eat assembly automation applications. Food grade centrifugal feeders singulate and orientate products delicately and reliably at high rates of speed. With a focus on food safety, Hoosier's machines are hygienic, featuring easy-to clean designs, 304 Stainless-Steel and FDA approved materials and components.
See the Food & Dry Ingredient Handling page on this company's website.
Types of Food & Dry Ingredient Handling
Food Stackers/Destackers
Processing Conveyors/Conveyance