Food & Dry Ingredient Handling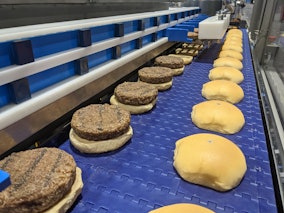 Hoosier Feeder Company's food grade centrifugal feeders singulate and orientate products delicately and reliably at high rates of speed. We can provide solutions for a variety of food product types including bakery, raw foods, flexible pouches, K-cups, and more. The hygienically designed system is easy to clean and focuses on food safety with 304 stainless steel and FDA approved components.
See the Food & Dry Ingredient Handling page on this company's website.
Types of Food & Dry Ingredient Handling
Food Stackers/Destackers
Processing Conveyors/Conveyance