Food & Dry Ingredient Handling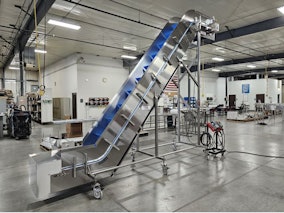 Keenline offers a wide variety of conveyors designed for raw food applications that meet USDA and FDA handling standards. Super-Sanitary and Ultra-Sanitary conveyors are fully welded stainless steel modular conveyors designed for the raw food handling and packaging applications, and feature true in-place cleaning features. Other processing conveyors built by Keenline include sanitary conveyors, bolted stainless steel models and carbon steel conveyors. Keenline also offers specialty conveyor designs.
See the Food & Dry Ingredient Handling page on this company's website.
Types of Food & Dry Ingredient Handling
Processing Conveyors/Conveyance
Features:
Aseptic

Dry process

Hygienic (low-moisture)

Ultraclean

Washdown (wet)

Wet process