Pre-made Bag Loading & Sealing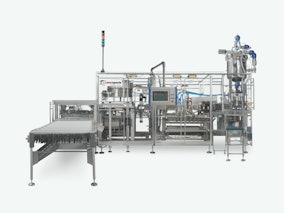 Mespack now offers the new HF series filling systems for top and edge spouted pre-made pouches. Due to a continuous filling motion through the spout, head space is reduced and the "wave effect" is prevented, reducing the amount of film usage by 15%. As a result of its modular design, the HF series allows for a pouch forming module to replace the automatic rail loading system. It is designed to increase output capacity by adapting the machine to be operable with additional lanes. Models HF-2400 and HF-4800 can be configured to simultaneously package a variety of products and formats.
See the Pre-made Bag Loading & Sealing page on this company's website.
Types of Pre-made Bag Loading & Sealing
Bag Loading, Filling & Sealing
Bag/Pouch Sealing Equipment