Pallet Conveying, Dispensers & Slip Sheets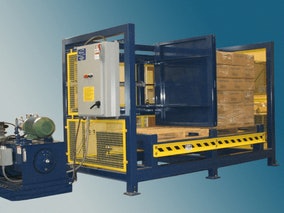 In addition to its case and drum palletizers, Newcastle Company, Inc. offers pallet handling solutions including load transfer systems, pallet dispensers and stackers, pallet inverters, load squaring and load stacking systems, sheet and board dispensers, degroupers, upenders, pallet washing systems and more. Featured products include the RM-1150 pallet transfer load system, which transfers cases and combo boxes from one type of pallet to another for shipping, storage, or to meet in house production requirements. Other products include the RM-975 automatic sheet dispenser for sheets or captive boards during palletizing or load transferring operations and the 50-57 automatic pallet dispenser.
See the Pallet Conveying, Dispensers & Slip Sheets page on this company's website.
Types of Pallet Conveying, Dispensers & Slip Sheets
Pallet Conveyors & Turntables
Pallet Dispensers
Pallet Inverters/Elevators
Slip Sheet/Top Sheet Handling