Pre-made Bag Loading & Sealing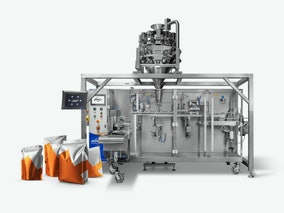 Paxiom Group manufactures premade pouch filling machines, offering solutions for retail, wholesale and bulk packaging. Designed to meet any production rate, package style and budget, Paxiom's family of bag filling machines includes the Swifty Bagger® series for laminated pouches with zipper closures and the Bingo Bagger® and Zippy Bagger® for wicket pouches. Paxiom's premade bag fillers automatically open, fill and seal a wide variety of products including snack foods, powders, spices, coffee, confections, pet food, cheeses, fruits, vegetables, bakery ingredients, frozen foods, liquids, hardware and pharmaceuticals, among others.
See the Pre-made Bag Loading & Sealing page on this company's website.
Types of Pre-made Bag Loading & Sealing
Bag Closing Equipment
Bag Loading, Filling & Sealing
Bag/Pouch Sealing Equipment