Blister & Clamshell Packaging Equipment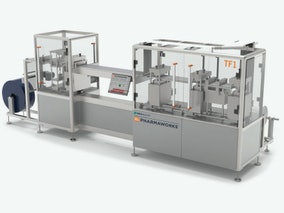 The Pharmaworks blister machine is capable of packaging virtually any blister application for a variety of industries. Pharmaworks equipment has been designed for production in the pharmaceutical, nutraceutical, medical device, animal health, and consumer industries. Each machine model can handle packaging applications from solid dose products like tablets, capsules, and gelcaps to more complex blister packaging applications such as medical devices, syringes, and liquids.
See the Blister & Clamshell Packaging Equipment page on this company's website.
Types of Blister & Clamshell Packaging Equipment
Blister Sealing Equipment (Retail Packs)
Clamshell & Blister Loading Equipment
Package Types:
Blister for Tablets

Blister Pack (Retail)