Pre-made Tray/Cup/Bowl Packaging Equipment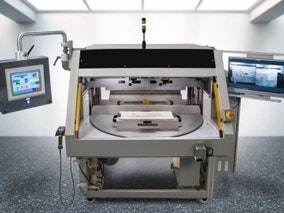 RND Automation's MediSeal semi-automatic tray sealer delivers an FDA Validatable seal process for medical device tray packaging applications. Available with single or dual independently controlled seal heads, the system requires preformed trays and precut sheets of pre-printed lid stock. This machine is best suited to target low-volume production environments or applications requiring frequent tool changes and for large format, high dollar medical devices. The MediSeal machine is fully validatable to make sure the package meets temperature, pressure and contact time requirements. The MediSeal Tray Sealer can produce up to 600 packages per hour depending on the number of cavities per rotation.
See the Pre-made Tray/Cup/Bowl Packaging Equipment page on this company's website.
Types of Pre-made Tray/Cup/Bowl Packaging Equipment
Package Types:
Tray