Packaging Inspection Equipment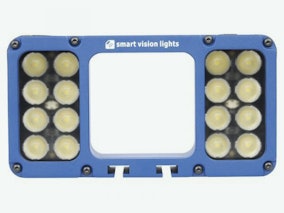 Smart Vision Lights is a leading designer and manufacturer of LED lighting solutions used for machine vision and automation camera applications for packaging and processing inspection. Their product range includes over 75 different types of lights, each designed to meet specific needs and requirements. Smart Vision's product selector on their website makes it easy to find the right light for any application by filtering through criteria such as wavelength, intensity, and beam pattern. Smart Vision Lights offers a variety of options including ring lights, bar lights, dome lights, spot lights, and more. They also offer specialty lights such as UV and infrared options. With their extensive product range and customizable options, Smart Vision Lights provides high-quality lighting solutions for any industrial or machine vision application.
See the Packaging Inspection Equipment page on this company's website.
Types of Packaging Inspection Equipment
Vision Inspection Systems
Package Types:
Ampoule or Vial

Bag

Blister for Tablets

Blister Pack (Retail)

Bottle or Jar

Carton (Folding)

Carton (Gabletop)

Cartridge

Chub Pack

Clamshell

Cup, Bowl or Tub

Flow Wrap

Overwrap

Pouch

Sachet

Sleeve

Stand-up Pouch

Stick Pack

Thermoformed Semi-rigid Pack

Thermoformed Vacuum Pack

Tray

Vacuum Shrink Pack

Vacuum Skin Pack