Food & Beverage Processing Equipment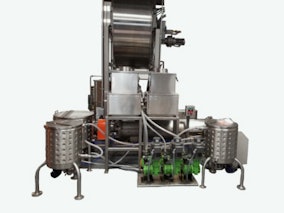 Spec Engineering offers customized dosing, filtering, evaporation and heat exchange solutions for liquid processing and handling applications. For liquid dosing applications, Spec works to optimize mass flow and measurement for high accuracy and stability and customize solutions to the plant's specific needs, factoring options such as volumetric or gravimetric dosing, tank size, and the need for additional agitators or dissolver mixers. In addition, Spec will provide mechanical installations, electrical controls, and implementation of an entire liquid filtering system, develop custom evaporation skids and work with its heat exchanger partners to engineer and build the right solution for the liquid processor.
See the Food & Beverage Processing Equipment page on this company's website.
Types of Food & Beverage Processing Equipment
Evaporators & Distillation Equipment
Filtration Equipment
Heat Exchangers
Tanks, Vessels & Kettles
Features:
Aseptic

Automatic

CIP

Dairy 3A

Dry process

Entry-level/budget models available

Hygienic (low-moisture)

Manual

Pilot/lab

Semi-automatic

Skid-mounted

Washdown (wet)

Wet

Wet process