Food & Beverage Processing Equipment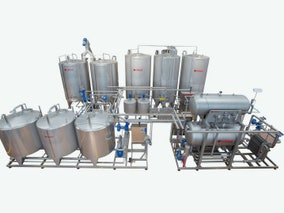 Storcan manufactures liquid processing and handling equipment such as filtration and clarification equipment for the production of wines, beer and distilled spirits (gin, whiskey, vodka, rum, and more), juices, soft drink and nectars. Processing equipment for alcoholic beverages include premix systems and carbonators for wine and beer, continuous distillation equipment and tunnel pasteurizers. Storcan also offers processing, premixing and pasteurization equipment for fruit juice, nectar, soft drinks and syrups such as continuous flotation units for separation of solids from fruit juice, full syrup room and filtering systems such as automatic rotary crossflow and horizontal plate equipment.
See the Food & Beverage Processing Equipment page on this company's website.
Types of Food & Beverage Processing Equipment
Evaporators & Distillation Equipment
Filtration Equipment
Heat Exchangers
Homogenizers
Liquid Processing Components
Tanks, Vessels & Kettles
Features:
Automatic

CIP

Semi-automatic