Case Packing Equipment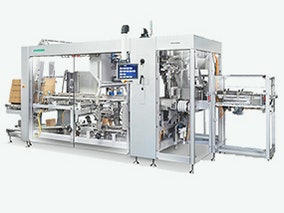 Syntegon Technology offers Elematic topload, sideload, and wraparound (hood and non-hood) case packers. The Elematic 1001 SL is Syntegon's standardized sideload case packer for packaging products into regular slotted cases (RSC), also known as American cases, designed with ergonomics and robustness in mind. The Sigpack TTMC case packer erects, loads and closes up to 25 cpm.
See the Case Packing Equipment page on this company's website.
Types of Case Packing Equipment
Case or Tray Erect/Load/Seal (Integrated)
Case or Tray Erectors & Formers
Case or Tray Loaders
Case Sealers
Features:
Adhesive

Auto load

Automatic

Corrugated tray

Horizontal/End/Side Load

PackML controls architecture

Robotic

Robotic loading

RSC-pre glued

Semi-automatic

Tape

Tool-less changeover

Vertical/Top/drop load

Wraparound
Package Types:
Bag

Bottle or Jar

Can or Canister

Carton (Folding)

Cartridge

Chub Pack

Cup, Bowl or Tub

Flow Wrap

Overwrap

Pouch

Sachet

Stand-up Pouch

Stick Pack

Thermoformed Vacuum Pack

Tray

Vacuum Shrink Pack