Product & Package Handling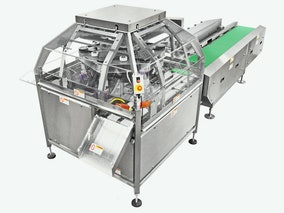 Kliklok's product handling, orienting, and loading equipment pairs its line of cartoning systems to provide seamless packaging solutions. Featured products include the Kliklok RTS, which uses a series of timing belts to place randomly arriving product into position to be turned and placed by carousel-mounted product grippers into the product infeed conveyors (PICs) of endload cartoners.
See the Product & Package Handling page on this company's website.
Types of Product & Package Handling
Features:
Counting

Entry-level/budget models available

Indexing

Robotic

Tool-less changeover
Package Types:
Bag

Blister for Tablets

Cartridge

Chub Pack

Cup, Bowl or Tub

Overwrap

Pouch

Sachet

Stick Pack

Thermoformed Vacuum Pack

Tray