Printing Presses & Decorating Equipment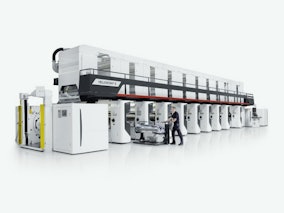 Windmoeller & Hoelscher CI flexo presses are designed for a wide range of applications offering high print quality and output. The W&H portfolio of MIRAFLEX, NOVOFLEX and VISTAFLEX offers unique solutions for all customers needs in flexible packaging printing. Gravure presses have been designed to take on demanding flexible packaging print jobs and are compatible with all of the W&H Assistance Systems, such as the fully-integrated VISION web inspection system, the EASY modules and TURBOCLEAN inking and wash-up system.
See the Printing Presses & Decorating Equipment page on this company's website.
Types of Printing Presses & Decorating Equipment
Flexo Presses
Rotogravure Presses