Pre-made Tray/Cup/Bowl Packaging Equipment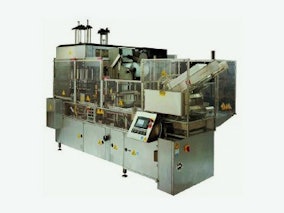 Winpak's WC horizontal inline fill/seal packaging machine is designed to fill and seal a wide variety of product types, volumes and cup sizes. These versatile machines are designed to run preformed plastic multi-pocket trays that are then separated into individual rectangular cups on the packaging machine. Fill/seal machines utilizing preformed cups are designed to be more economical and efficient than horizontal in-line form/fill/seal cup machines. The WC model cup machine is capable of running production rates up to 600 packages per minute. Other cup and tray filling machines are also available.
See the Pre-made Tray/Cup/Bowl Packaging Equipment page on this company's website.
Types of Pre-made Tray/Cup/Bowl Packaging Equipment
Product Loading into Trays, Cups & Bowls
Features:
Automatic

Rollstock lidding

Semi-automatic

Vacuum packaging
Package Types:
Cup, Bowl or Tub

Tray