Food & Dry Ingredient Handling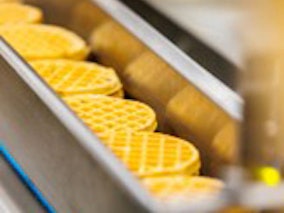 Designed for hygienic applications, the AES Garnet™ Smart Belt conveying system is designed to automatically reposition randomly arriving products into a single file line of products, equally spaced and phased to the infeed section of a flow wrapper, end load cartoner, or any other secondary packaging machine. Designed for food processing and packaging operations, the AES Garnet™ Smart Belt is not only reliable but also easy to clean, maintain, and repair. Features a cantilever design, enabling quick belt changes, and is equipped with an automatic belt tracking device. Each conveyor is independently driven by One Motion™ Mag-Drives integrated into the driving pulley, resulting in a superior hygienic design without the cavities, nooks, and crannies created by a conventional servo motor-driven system.
See the Food & Dry Ingredient Handling page on this company's website.
Types of Food & Dry Ingredient Handling
Processing Conveyors/Conveyance
Features:
Dry process

Washdown (wet)

Wet process