Blister & Clamshell Packaging Equipment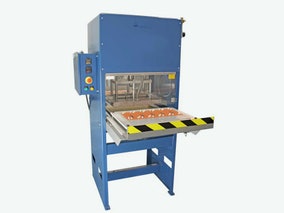 Algus Packaging builds automated and semi-automated blister seal machines for the medical, pharmaceutical and the CPG (consumer packaged goods) markets. Blister sealing machine equipment line includes rotary, carousel and shuttle seal machines. All Algus blister seal machines can be configured for a variety of sealing technologies, including heat seal, RF and ultrasonic. Customization of equipment varies widely depending on the application as well as the volume and speed requirements and cost factors of the customer. Algus Packaging's line of equipment provides sealing areas ranging from 12×18.5 to 18×26 in.
See the Blister & Clamshell Packaging Equipment page on this company's website.
Types of Blister & Clamshell Packaging Equipment
Blister Sealing Equipment (Retail Packs)
Clamshell Closing & Welding Equipment
Features:
Automatic

Manual

Semi-automatic
Package Types:
Blister Pack (Retail)

Clamshell