Food & Dry Ingredient Handling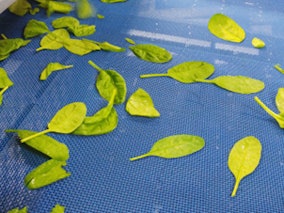 Through its Ammeraal Beltech brand, Ammega supplies a range of belting used in food industry processing for conveying, cooling, topping and packaging. Ammeraal Beltech's product line includes modular belts used for baking industry as well as food grade polyurethane and polyester round and V-belts for applications including handling sliced meats, cheese and for topping and packaging lines. Other products include Ultrascreen Mesh Belts, made of polyester monofilaments and fabricated with lateral and longitudinal strips to provide stability. With completely closed belt edges for improved hygiene and safety, these mesh belts are used for applications such as draining during vegetable, fruit and seafood processing.
See the Food & Dry Ingredient Handling page on this company's website.
Types of Food & Dry Ingredient Handling
Processing Conveyors/Conveyance
Features:
Hygienic (low-moisture)

Washdown (wet)

Wet process