Packaging Inspection Equipment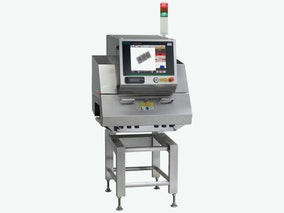 Anritsu's line of packaging inspection equipment includes X-ray equipment, checkweighers, and metal detectors. X-ray inspection Systems are designed to give food and pharmaceutical producers the best combination of contaminant detection, reliability, and low total cost of ownership. Beyond detection, systems provide missing product, shape detection, virtual weight, count, and package check. Ensure product quality and determine weight with Anritsu's precision inline checkweighers, engineered for product safety, productivity, and excellent return on investment while ensuring compliance with HACCP programs, all in a compact footprint. Detect ferrous and stainless metals simultaneously with Anritsu's advanced Dual Wave metal detector solutions. Company also offers the SSV checkweigher and metal detector combination systems to provide outstanding weighing accuracy with simultaneous multi-frequency inspection to help find the smallest contaminant.
See the Packaging Inspection Equipment page on this company's website.
Types of Packaging Inspection Equipment
Cap Torque Testing
Checkweighers
Fill Level Inspection
Metal Detectors
Package Integrity Testing
X-Ray Systems
Features:
Automatic

Entry-level/budget models available

Manual

Offline

Online

Semi-automatic
Package Types:
Ampoule or Vial

Bag

Bag-in-box for Liquids

Blister for Tablets

Blister Pack (Retail)

Bottle or Jar

Brick Pack (Laminate)

Can or Canister

Carton (Folding)

Carton (Gabletop)

Cartridge

Chub Pack

Clamshell

Cup, Bowl or Tub

Flow Wrap

Heavy Duty Industrial Sack

Large Bag

Lined Case

Overwrap

Pail

Portion Pack Cup

Pouch

Sachet

Sleeve

Stand-up Pouch

Stick Pack

Thermoformed Semi-rigid Pack

Thermoformed Vacuum Pack

Tray

Tube (Flexible)

Vacuum Shrink Pack

Vacuum Skin Pack