Case Packing Equipment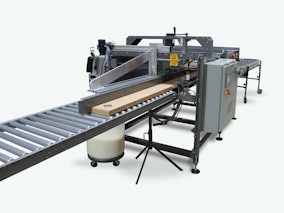 Astro Packaging manufactures several models case sealers, case erectors, case packers and a wide variety of related automated packaging solutions. Featured case packers include the Model 34 Side Sealer, designed for sealing the long edge of boxes in specialty applications such as bed frame, book shelf and floor manufacturing. Astro Packaging's Liberty Series™ Bottom Load Case Packer is built for compactness and flexibility in the plant. The bottom load case packer machine is a good fit when a product must be kept upright when case packed and drop packing is not an option. The Freedom Series wrap around case packer can run up to 35 cases per minute maximum line speed. Astro can also build custom machines for specialized box sizes or adjustable machines that accommodate multiple box sizes.
See the Case Packing Equipment page on this company's website.
Types of Case Packing Equipment
Case or Tray Erect/Load/Seal (Integrated)
Case or Tray Erectors & Formers
Case Sealers
Features:
Adhesive

Auto load

Automatic

Bottom load

Horizontal/End/Side Load

Semi-automatic

Vertical/Top/drop load

Wraparound
Package Types:
Bag

Can or Canister

Carton (Folding)

Chub Pack

Cup, Bowl or Tub

Flow Wrap

Lined Case

Overwrap

Pouch

Stand-up Pouch

Thermoformed Vacuum Pack

Tray

Vacuum Shrink Pack