Feeding & Inserting Equipment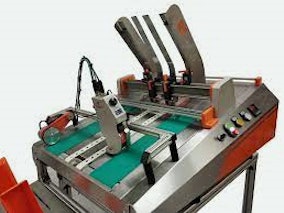 High-speed feeding systems go hand-in-hand with Markoprint printers to allow for the coding of various packaging materials, including flat boxes, cartons, hang cards, sleeves and pouches. Available as standalone friction feeders or fully integrated feeding/coding systems, AT Information's packaging feeders are designed to feed items reliably and consistently across different thicknesses. Machines include the RF Case feeder, handling the automatic feeding of outer case packaging such as boxes in their flat form, and the RF Pouch, using vacuum pick-and-place technology to convey various flat bags, pouches and other flexible materials.
See the Feeding & Inserting Equipment page on this company's website.
Types of Feeding & Inserting Equipment