Rigid container closing equipment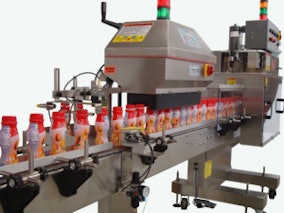 AutoMate Technologies offers three models of induction sealers for small volume sealing as well as high-speed applications. AutoMate's AM0250, also known as the "Original Waterless Cap Sealer," is a high-speed induction sealing machine in a compact design that delivers 2,500 Watts of power with no water cooling required. Machine features an easy to use soft touch membrane screen that tracks power level percentage, sealing power, batch count/batch preset and total number of bottles sealed. Other induction sealers from AutoMate include the AM-500, delivering twice the power of the AM-250, and the AM-100 bench top sealer, designed for research and development or small volume runs.
See the Rigid container closing equipment page on this company's website.
Types of Rigid container closing equipment
Features:
Automatic

Manual

Pilot/lab

Semi-automatic
Package Types:
Bottle or Jar