Packaging Inspection Equipment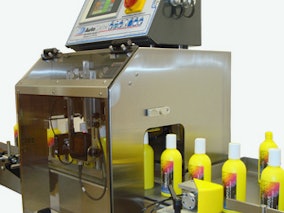 AutoMate supplies the industry with two bottle and packaging inspection systems: the AM-QC and the AM-DA Diagnostic Center. Model AM-QC provides product quality assurance, accuracy and integrity in one centralized machine, performing inspection tasks such as torque monitoring; detection for missing caps, missing or skewed labels, missing neck bands and foil seals; bar code verification; color correctness; conveyor speed monitoring, crooked/ loose cap detection; date/lot verification; verification of cotton placement and more. The AM-DA provides inspection and quality assurance through non-contact, non-destructive testing, with reject systems that gently remove products.
See the Packaging Inspection Equipment page on this company's website.
Types of Packaging Inspection Equipment
Cap, Lid & Flap Detection
Cap Torque Testing
Fill Level Inspection
Package Integrity Testing
Vision Inspection Systems
Package Types:
Bottle or Jar

Carton (Folding)