Food & Dry Ingredient Handling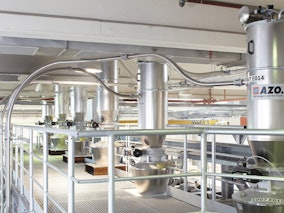 Azo designs and builds ingredient and raw material handling equipment covering production processes for the food, pharmaceuticals, cosmetics, chemicals and plastics markets. Product line includes bulk/dry ingredient weighing and filling stations, bulk bag unloaders, docked bag dumping stations, automatic weighing stations for minor and micro components. Azo also offer extensive pneumatic conveying and vacuum/low-velocity vacuum/dense-phase vacuum conveying systems for granular, powdered and lumpy bulk materials.
See the Food & Dry Ingredient Handling page on this company's website.
Types of Food & Dry Ingredient Handling
Bulk Handling & Weighing Equipment
Dumping Stations
Processing Conveyors/Conveyance
Features:
Automatic

Dry process

Manual

Semi-automatic

Skid-mounted

Wet process