Packaging Inspection Equipment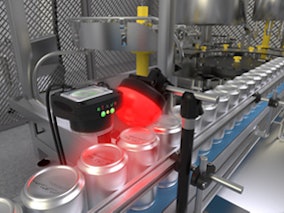 Sensors and smart cameras from Banner Engineering are able to quickly inspect packages for defects. Sensor equipment includes photoelectric, registration mark, color and luminescence sensors, radar sensors, ultrasonic, as well as temperature and vibration sensors. Smart cameras include the VE high-resolution vision camera and barcode reader. All of Banner's sensors and smart cameras set themselves apart by being easy to set up, teach, and deploy. Banner Engineering also provides lighting, vision lenses, and software for inspection applications. Contact an application engineer today for assistance with an inspection application.
See the Packaging Inspection Equipment page on this company's website.
Types of Packaging Inspection Equipment
Cap, Lid & Flap Detection
Fill Level Inspection
Vision Inspection Systems
Package Types:
Ampoule or Vial

Bag

Bag-in-box for Liquids

Blister for Tablets

Blister Pack (Retail)

Bottle or Jar

Brick Pack (Laminate)

Can or Canister

Carton (Folding)

Carton (Gabletop)

Cartridge

Chub Pack

Clamshell

Cup, Bowl or Tub

Drum

Flow Wrap

Heavy Duty Industrial Sack

IBCs/Tote

Keg or Cask

Large Bag

Lined Case

Overwrap

Pail

Portion Pack Cup

Pouch

Sachet

Sleeve

Stand-up Pouch

Stick Pack

Thermoformed Semi-rigid Pack

Thermoformed Vacuum Pack

Tray

Tube (Flexible)

Vacuum Shrink Pack

Vacuum Skin Pack