Pre-made Bag Loading & Sealing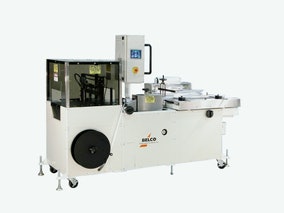 Belco is a manufacturer of semi-automatic impulse wire and hot knife bag sealers, automatic L-bar sealers, bag top sealers and sealer/tunnel combination units. Automatic L-sealers come in 6 sizes and are designed to offer the dependable performance and high productivity you require to meet your packaging requirements. The FEN continuous motion automatic side seal wrapper features a no-product/no-cycle photo eye and is designed to reach production speeds of 60 feet of film or 50 packages per minute. The MAXX 5 bag top sealer replaces the manual operations of bag sealing, folding and stapling a header label for retail-level quality packaging.
See the Pre-made Bag Loading & Sealing page on this company's website.
Types of Pre-made Bag Loading & Sealing
Bag Closing Equipment
Bag Loading, Filling & Sealing
Bag/Pouch Sealing Equipment
Package Types:
Bag

Pouch

Vacuum Shrink Pack