Pre-made Tray/Cup/Bowl Packaging Equipment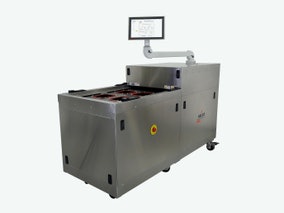 Belco is an original equipment manufacturer of tray sealing equipment for medical device packaging applications. The BM PC tray sealer is designed to ensure the highest level of consistency and repeatability in producing high quality seals for an FDA monitored environment. System's open PC architecture allows real time package data acquisition and monitoring of every cycle for process alarms while also reporting both machine level and cycle level errors and LAN capability. Features standard RFID identification of any seal fixture prior to allowing a cycle to run. Integration of barcode scanners and vision systems is easily handled thanks to the EtherCAT and Ethernet protocols already integrated into the control system.
See the Pre-made Tray/Cup/Bowl Packaging Equipment page on this company's website.
Types of Pre-made Tray/Cup/Bowl Packaging Equipment
Package Types:
Tray