Food & Dry Ingredient Handling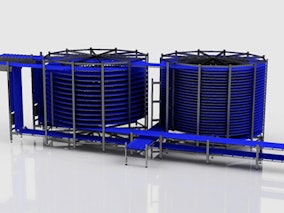 BESSEN conveying systems are designed as complete solutions that feed, transfer, index, layout, accumulate and chill or freeze food and beverage products. Processing conveyors include incline conveyors, take-away conveyors and spiral conveyors and modular plastic conveying systems, all engineered to provide high readability, easy operation, and low maintenance costs. Bessen conveying systems are capable of working in a wider range of temperatures and conditions – from transferring product dewing stations to indexing of the product onto a conveyor, pan or into packaging – to spiral blast chilling-freezing applications.
See the Food & Dry Ingredient Handling page on this company's website.
Types of Food & Dry Ingredient Handling
Processing Conveyors/Conveyance
Features:
Dry process

Washdown (wet)

Wet process