Case Packing Equipment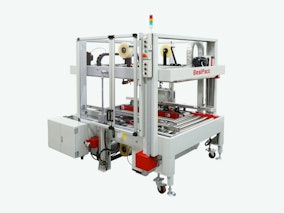 Bestpack Packaging Systems specializes in carton and case erecting and sealing machinery. The BestPack™ CT4E Series is a fully automatic random four outer edge sealer for cases and large cartons. These sealers are designed to eliminate costly hand taping of the four outer edges of randomly sized cartons where pilfer proofing and protection of product from the outside environment is necessary. The unit includes a front side entry for a 90 degree directional container turn before entering into the four edge sealing station.
See the Case Packing Equipment page on this company's website.
Types of Case Packing Equipment
Case or Tray Erect/Load/Seal (Integrated)
Case or Tray Erectors & Formers
Case Sealers
Features:
Auto load

Bottom load

Horizontal/End/Side Load

Manual load

Tamper-evident

Vertical/Top/drop load
Package Types:
Carton (Folding)

Lined Case