Case Packing Equipment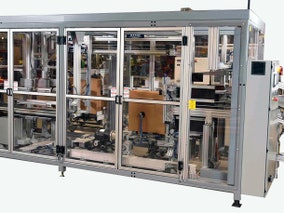 The NAS ComPack series case packer is designed for applications where floor space is limited. Packer is designed to erect cases and pack product sequentially within the same machine. The unit is designed to handle a wide range of products produced from either plastic or paper with user friendly controls and available in top and/or side load or fed from multiple lanes. The case packer can be configured with many options to meet end-of-line needs.
See the Case Packing Equipment page on this company's website.
Types of Case Packing Equipment
Case or Tray Erect/Load/Seal (Integrated)
Case or Tray Erectors & Formers
Case or Tray Loaders
Case Sealers
Features:
Adhesive

Auto load

Automatic

Bottom load

E-commerce

Horizontal/End/Side Load

Manual

Manual load

Robotic

Robotic loading

Semi-automatic

Stapling

Tamper-evident

Tape

Tool-less changeover

Vertical/Top/drop load
Package Types:
Bag

Blister for Tablets

Blister Pack (Retail)

Bottle or Jar

Brick Pack (Laminate)

Can or Canister

Carton (Folding)

Carton (Gabletop)

Cartridge

Clamshell

Cup, Bowl or Tub

Lined Case

Portion Pack Cup

Pouch

Sleeve

Thermoformed Semi-rigid Pack

Tray

Tube (Flexible)

Vacuum Shrink Pack

Vacuum Skin Pack