Case Packing Equipment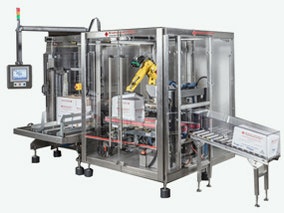 Bradman-Lake offers preformed case and wraparound packers for a wide range of products, with side load, bottom load and top load options available for preformed cases. Range of case packers is designed to deliver flexible solutions to satisfy the demands of modern shelf-ready retailing, including side load and bottom load case packers that pre-collate products into the required formats before loading them into standard RSC cases.
See the Case Packing Equipment page on this company's website.
Types of Case Packing Equipment
Case or Tray Erect/Load/Seal (Integrated)
Case or Tray Erectors & Formers
Case or Tray Loaders
Features:
Adhesive

Auto load

Automatic

Bottom load

Corrugated tray

Entry-level/budget models available

Horizontal/End/Side Load

IIoT ready

Manual

Manual load

PackML controls architecture

Pad/partition inserters/dispensers

Pilot/lab

Robotic

Robotic loading

RSC-pre glued

Semi-automatic

Tamper-evident

Tape

Tool-less changeover

Vertical/Top/drop load

Wraparound
Package Types:
Ampoule or Vial

Bag

Blister for Tablets

Blister Pack (Retail)

Bottle or Jar

Brick Pack (Laminate)

Can or Canister

Carton (Folding)

Carton (Gabletop)

Cartridge

Chub Pack

Clamshell

Cup, Bowl or Tub

Flow Wrap

Overwrap

Portion Pack Cup

Pouch

Sachet

Sleeve

Stand-up Pouch

Stick Pack

Thermoformed Semi-rigid Pack

Thermoformed Vacuum Pack

Tray

Tube (Flexible)

Vacuum Shrink Pack

Vacuum Skin Pack