Sanitizing & Clean-in-Place (CIP)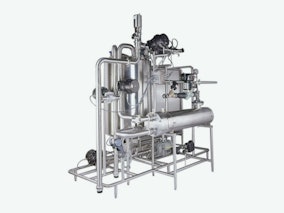 Central States supplies cleaning and sanitizing systems including clean-in-place (CIP), tank cleaning equipment, pigging systems, and tote cleaning equipment for cleaning sanitary process lines, vessels, and equipment for the beverage, biotech, brewery, chemical, dairy, processed food, home and personal care and pharmaceutical industries. Compact CIP is a mobile, cost-effective system designed with large caster wheels and a small footprint, allowing it to be moved easily. Custom fabricated CIP systems from allow the user freedom to choose from a vast supply of sanitary options. In addition, Central States offers its related CIP 2.0, a controls system for CIP with data tracking features, lock/unlock configuration screens, and maintenance manuals—all stored digitally on the skid—making it especially beneficial for food, dairy, and beverage plants.
See the Sanitizing & Clean-in-Place (CIP) page on this company's website.
Types of Sanitizing & Clean-in-Place (CIP)
Mobile Cleaning
Pigging Systems
Tank Cleaning Equipment/Systems
Features:
CIP

High-temperature

Humidity control

Hygienic (low-moisture)

Washdown (wet)

Wet