Feeding & Inserting Equipment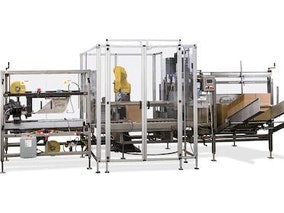 Combi Packaging Systems offers a robotic pick-and-place packing feature to fully automate case packing operations that may require verifying lot or serialization numbers, varying pack counts, creating retail ready packages, or automating tasks that are difficult or unsafe for humans. For greater flexibility and greater throughput, an integrated Fanuc robot can be used during times when hand packing is unavailable or impractical.
See the Feeding & Inserting Equipment page on this company's website.
Types of Feeding & Inserting Equipment
Package Types:
Blister Pack (Retail)

Carton (Folding)

Cup, Bowl or Tub

Portion Pack Cup

Pouch

Thermoformed Vacuum Pack

Tray

Tube (Flexible)

Vacuum Skin Pack