Food Processing Equipment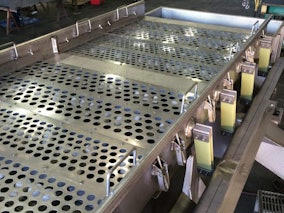 Commercial Manufacturing supplies blending, and size grading equipment used in raw food processing and processed food manufacturing applications. Size grading equipment includes Vibra-Glide and Ajax shaker vibratory conveyors, featuring perforated screens to separate objects based on maximum dimension, while rod or bar screens separate based on minimum dimension. Other graders include the Rotary Reel Grader for in-shell walnuts and Roller grader for cracked walnuts. Mix-and-blend systems provide volumetric or weighed proportioning of ingredients into a blend or recipe.
See the Food Processing Equipment page on this company's website.
Types of Food Processing Equipment
Food Processing Accessories & Components
Grading & Sorting Equipment
Mixing & Blending Equipment
Raw Material Preparation Equipment