Product & Package Handling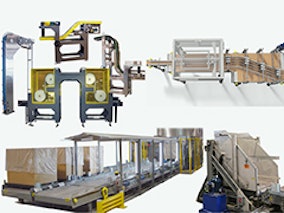 Container Handling Systems Corporation's servo lane divider, featuring a heavy duty frame, can be integrated into any conveyor system. This CHSC system employs a brake system to hold containers while the servo drive shifts the lane. The servo allows quick shifting and extreme accurate alignment to the conveyor guide rails. Servo laners are custom designed to match conveyor layouts and electrical specifications. Base unit components include: infeed conveyor with drive, servo motor with a timing belt driven lane assembly, heavy duty container stop as part of lane rails, jam and back up controls, and Allen Bradley PLC control panel.
See the Product & Package Handling page on this company's website.
Types of Product & Package Handling
Diverters & Rejects
Dumpers & Bulk Unloading
Elevators & Lowerators
Lane Dividers, Merge & Transfers
Stacking Machines
Tray/Crate Handling Machines
Features:
Entry-level/budget models available

PackML controls architecture

Tool-less changeover
Package Types:
Ampoule or Vial

Bag

Bag-in-box for Liquids

Blister for Tablets

Blister Pack (Retail)

Bottle or Jar

Brick Pack (Laminate)

Can or Canister

Carton (Folding)

Carton (Gabletop)

Cartridge

Chub Pack

Clamshell

Cup, Bowl or Tub

Drum

Flow Wrap

Heavy Duty Industrial Sack

IBCs/Tote

Keg or Cask

Large Bag

Lined Case

Overwrap

Pail

Portion Pack Cup

Pouch

Sachet

Sleeve

Stand-up Pouch

Stick Pack

Thermoformed Semi-rigid Pack

Thermoformed Vacuum Pack

Tray

Tube (Flexible)

Vacuum Shrink Pack

Vacuum Skin Pack