Pallet Conveying, Dispensers & Slip Sheets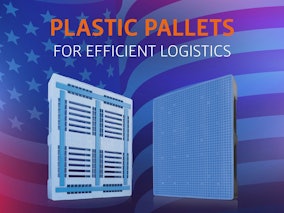 Craemer Group's CR and TC series plastic pallets are designed for handling heavy duty loads and for use in high rack warehouses or automated processes within a variety of industries. The made-for-U.S., high-quality CR4-5 is made from PE, equipped with steel reinforcement rods for increased load capacity and 100% recyclable. Palgrip® anti-slip strips on the top deck ensure maximum load safety. Craemer's TC fully closed hygiene plastic pallets are ideally suited for heavy-duty loads and prove their worth in all areas where permanent protection against moisture is essential. For absolute reliable load securing, all models within the TC range are available with a full-surface Palgrip® anti-slip deck. The patented Craemer welding seam geometry sets this pallet type apart from the rest of the closed plastic pallets market. Its high-strength welds and innovative honeycomb structure make Craemer TC pallets exceptionally resistant to impact; they are suitable for heavy duty loads for clean room applications in the pharmaceutical or food industries.
See the Pallet Conveying, Dispensers & Slip Sheets page on this company's website.
Types of Pallet Conveying, Dispensers & Slip Sheets
Features:
Automatic

Closed loop (industrial)

Manual

Semi-automatic