Pallet Conveying, Dispensers & Slip Sheets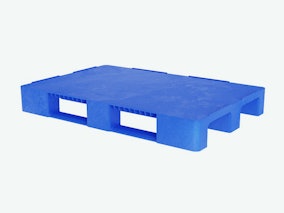 Decade Products is a supplier of pallets that are completely reusable and virtually maintenance-free. Decade's pallets are more cost-effective and user-friendly than wood, cardboard or metal. Featured pallets include the RACX Pallet, a durable yet lightweight, one-piece pallet that is designed for performance and economy; features a picture-frame bottom with runners on all four sides, allowing space-saving racking storage above the floor. Other pallets include the MV800, a smooth deck euro size pallet with a top surface that allows for easy cleaning and designed for food safety and hygienic applications and the Heavy-Duty 43.3 x 47.2, engineered to handle extreme loads and offering reinforcement rod options that further increase racking load capability.
See the Pallet Conveying, Dispensers & Slip Sheets page on this company's website.
Types of Pallet Conveying, Dispensers & Slip Sheets