Food & Beverage Processing Equipment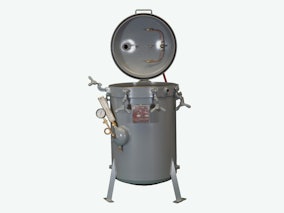 Retorts and food processing equipment from Dixie Canner Co. are trusted by leading global brands for such applications as R&D and pilot programs, specialty product processing and package integrity testing. Retort machines include the Dixie RDWS-3SS retort for in-container sterilization, heat processing for food and pharmaceutical industries. Dixie Canner also supplies retort accessories and equipment such as pressure regulators, cast iron pipe line strainers, retort thermometers, pressure gauges and more. In addition to its retort equipment, Dixie supplies food processing equipment such as line exhausters, lye peeler-scalders, steam blancher-coolers for processing peaches, pears, potatoes and tomatoes.
See the Food & Beverage Processing Equipment page on this company's website.
Types of Food & Beverage Processing Equipment
Raw Material Preparation Equipment
Retort & Sterilization
Features:
Entry-level/budget models available

Pilot/lab

Wet